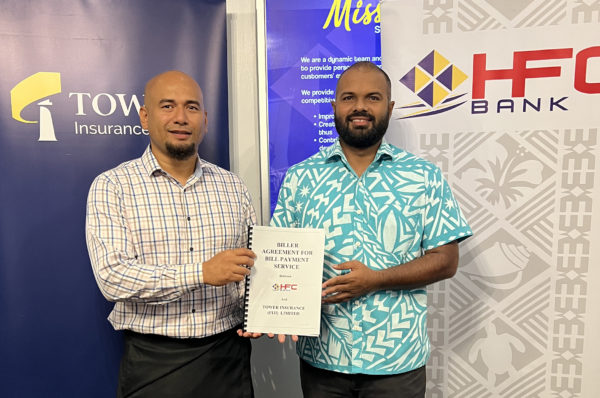 HFC Bank proudly announces the on boarding of Tower Insurance Fiji Limited to its online Bill Payment platform.
HFC Bank BillPay is a secure electronic payment service that gives HFC Bank customers the freedom to make hassle-free payments through HFC Bank's Internet or mobile banking portals – anytime, anywhere!
"We are committed to delivering quality future-focused solutions for our customers. HFC Bank's Bill Pay service improves the speed and convenience of paying your bills – a critical component to the ability and growth of any business in this digital era", CEO Rakesh Ram stated.
Now, with the inclusion of Tower Insurance to its growing list of billers, HFC Bank customers have the option to make insurance premium payments from the comfort of their homes or offices. Another new initiative to reflect the Bank's continued commitment to improving its digital strategies for a seamless banking experience.
As Fiji's oldest and a market leading insurance provider, Tower Insurance has been a part of HFC Bank for several years as the underwriter for HFC Bank's insurance products and services.
Tower Insurance Head of Pacific Digital Distribution, Mr Veilawa Rereiwasaliwa stated, "HFC Bank is Fiji's own local commercial bank and has grown a strong customer base over the years so being a biller on the HFC Bank BillPay service will make it easier for our mutual customers to pay their insurance premiums and protect their assets."
HFC Bank has grown exponentially over the years and established itself as a formidable player in the banking arena. And, as Fiji's only Fijian owned bank, HFC Bank places great pride and commitment to providing real financial solutions to its customers and fair returns to its shareholders.
In line with ongoing strategies, the Bank recently marked a historical event with the commencement of its Core Banking System and digital enhancement project. A $40m investment aimed at improving HFC Bank's digital capabilities and operational efficiencies to benefit stakeholders, customers, and staff. Earmarked for completion by mid-2023, customers can expect a state-of-the-art banking experience.
Image caption: (L-R) Tower Insurance Head of Pacific Digital Distribution, Veilawa Rereiwasaliwa with General Manager Retail Banking, Tony Ram