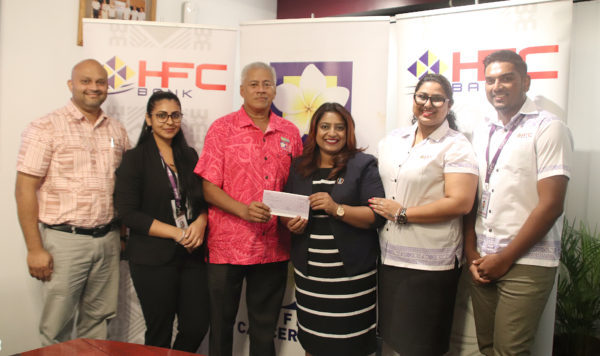 HFC Bank presented a cheque of $5,000 to Fiji Cancer Society, a culmination of the Banks vigorous fundraising campaigns held in the month of October 2021.
HFC Bank CEO Rakesh Ram said that this has been a passionate cause for the Bank for several years. The efforts of my Staff and Leadership Team towards improving the livelihoods of Fijians in need remain an inspiring attribute that speaks volumes to the core of who we are!
Fundraising within the organization was spearheaded by the bank's Social Club Committee and assisted by Senior Management Staff. The committee acknowledged and appreciated the overwhelming support from the entire HFC Bank staff that collectively raised these funds through personal donations and internal fundraising events. Our contribution provides the much-needed financial assistance for Fiji Cancer Society to continue helping those suffering with cancer.
Fiji Cancer Society's President & Chairman Makarava Wilson thanked the team at HFC Bank for the continued support shown towards those diagnosed with cancer and said that funds will go towards the Society's patient support services.
"Fiji Cancer Society provides nonclinical support to cancer patients, and this include medication when it's not under the free drug list, prosthetic bras and breast for women who have undergone breast surgery, transportation and medical supplies such as oxygen tanks, diapers, wipes, colostomy bags and other services for cancer patients", Mr. Wilson added.
"Cancer does not only affect one individual but the whole family. And I encourage every Fijian to continue self-examination of their bodies and remember that early detection is key to fighting this illness." Mr. Wilson concluded.