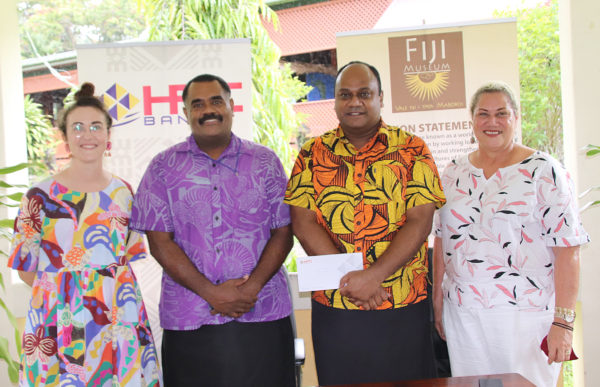 HFC Bank recently announced a sponsorship of $5k to the Fiji Museum in support of the museums 'Tokani: Friends of the Fiji Museum' efforts to preserve Fiji's heritage, culture and traditions through awareness, education, excursion and exhibition programs.
"As the only Fijian owned bank in Fiji, we are proud to be a part of the Museums' commitment to preserving and promoting our cultural heritage. Our heritage is an essential component of who we are and the initiatives of the Fiji Museum connect us to irrefutable aspects of our past that allow us to identify with one another and ultimately instilling a deep sense of unity, belonging and pride." HFC Bank CEO Rakesh Ram said.
Director Fiji Museum, Mr. Sipiriano Nemani said that he is truly grateful for the continuous support of HFC Bank on the protection of Fiji's cultural artifacts that represent the diverse communities that have made Fiji their home. The Fiji Museum has progressed from being just a repository of local artifacts, we are now a research and educational institute with staff engaging in archeological research, collection and preservation of Fiji's oral traditions and the publication of language and cultural materials.
"This sponsorship marks HFC Bank's second year of commitment to keeping Fiji's cultures and practices alive. A partnership that actively supports the activities and events of the Fiji Museum and the Tokani: Friends of the Fiji Museum throughout the year." President of Tokani Ann Steele-Kamikamica said.
Ann added that HFC Bank's support will enable Tokani Executives to work with the Museum staff to make its growing membership attractive by ensuring the experiences and visits to the museum by members, new members, our visitors or tourists, and the general community are educational, interesting, interactive and a worthwhile lasting experience.
In this modern era, it is easy to lose sight of the importance of our roots and the role of the Fiji Museum. We intend to enrich and inspire communities and future generations to understand, appreciate and take pride in Fiji's history and achievements, Mr. Nemani concluded.
Image Caption: (L-R) Tokani Treasurer Ms Lisa Kingsberry, HFC Bank General Manager IT Mr Timoci Tuisawau, Fiji Museum Director Mr. Sipiriano Nemani & Tokani President Ms Ann Steel Kamicamica at the cheque handover held at Thurston Garden.