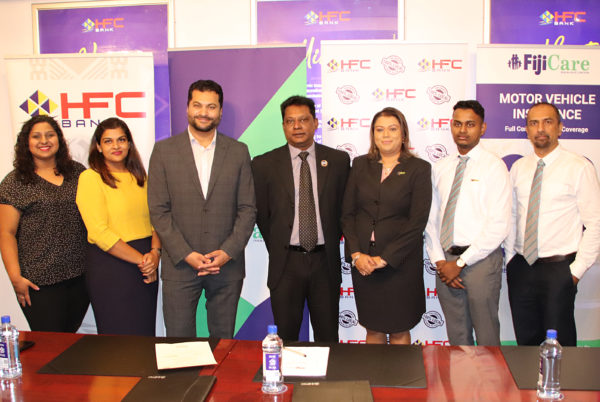 FijiCare Insurance Limited have proudly partnered with HFC Bank to launch FijiCare's "Motor Vehicle Insurance" agency.
HFC Bank currently acts as agent for several of FijiCare's class of insurance businesses such as Health, Life, Mortgage Protection, Funeral, and Micro Insurance Policies. HFC Bank customers and walk in clients will be able to benefit with the custom designed competitive rates and quality services the Bank has to offer as an agent of FijiCare.
"This is a significant partnership between two key local service providers, which are constantly looking at offering innovative products and real solutions to its customers, complemented by genuine relationships and quality service delivery. HFC Bank is indeed proud to partner with FijiCare not only to deliver the existing range of insurance products to our customers but to also continue to add new innovative and competitive products in its suite. The latest on boarding of FijiCare's Motor Vehicle insurance agency is a testimony of our continued commitment to our customers to offer them with most effective, competitive, and reliable products, and services", stated by CEO Rakesh Ram.
"HFC Bank has grown exponentially since becoming a fully commercial bank in 2014 and has since, established itself as a formidable player in the banking arena. And as the only Fijian owned Bank, HFC Bank now stands shoulder to shoulder with other international banks in Fiji with a 100% local staff force who are proud to be associated with the success of their own Bank", CEO Rakesh Ram concluded.
As the leading local insurance company, FijiCare is pleased to partner with HFC Bank on this agency. FijiCare takes pride in its ability to provide the best experience for its customers by continually focusing on innovation.  FijiCare's Motor Insurance offers speedy claims processing and excellent service delivery.
Commenting on the partnership, FijiCare Executive Director, Mr. Avi Raju said, "Over the last four years, FijiCare has rapidly changed the Fijian insurance market dynamics by being at the forefront of introducing new innovative products and through its digital transformation."
"We are thrilled to have HFC Bank as our agency partner for comprehensive Motor Vehicle insurance. We will work in collaboration with HFC Bank and strive to deliver the best products and services to HFC Bank Motor Vehicle policy holders", Executive Director, Mr. Avi Raju further added.