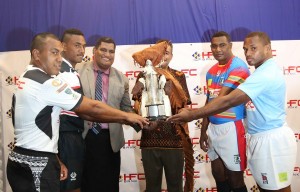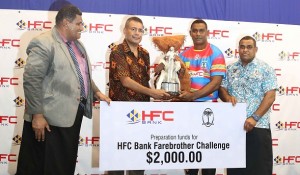 HFC Bank Board Director Alipate Naiorosui Speech:
The Chairman and Board Directors of Fiji Rugby Union
The CEO of Fiji Rugby Union
The HFC Bank Board & Management
The Representatives of the provincial Rugby Unions, Players & Coaches
Invited Guests
Members of the media
Ladies & Gentlemen
It is my great honour today to launch the HFC Bank Farebrother Challenge and the HFC Bank Bainimarama Challenge.
I am proud to announce that this year also marks the 77th year of the Farebrother Challenge. Farebrother Challenge is the FIRST Official Inter-district Rugby trophy in Fiji since 1941 and has grown to become Fiji's most competitive rugby challenge over the years.
The Challenge this year will be contested by Fiji's Top 4 rugby unions (Fiji's Best provincial teams) and the holder of the Bainimarama Shield.
Last year's Challenge was very competitive and thrilling and all the teams rose to the occasion. We must congratulate Namosi for successfully defending the HFC Bank Farebrother Challenge trophy in 2017. We are also looking forward to a successful 2nd season of the HFC Bank Bainimarama Challenge.
At HFC Bank, we have passion for our people. We are Fiji's Bank and Our vision is To Be Fiji's Bank of Choice by Serving Our People with Innovative Financial Solutions. We continuously bring competitive financial products that provide solutions to your everyday financial needs. And as our rugby heroes strive on the field to bring glory to their district or nation, we at HFC Bank share the same passion in delivering quality service to you, our people.
Provincial challenges such as the Farebrother Challenge is a platform that inspires our youths to take up rugby as a sport and later this becomes a career path. We are very proud that – players who contested in the Farebrother challenge last year, have been selected to represent FIJI at the 2018 Rugby World Cup Sevens this weekend. I take this opportunity to wish both our boys and the Fijiana Team well in this World Cup.
HFC Bank is honoured to be contributing towards realising the vision of Fiji Rugby Union, which is 'To be the World Leaders in Rugby'.
With these words it gives me great pleasure to Officially Launch the HFC Bank Farebrother Challenge and the HFC Bank Bainimarama Challenge for 2018. May the best team win.
Vinaka Vakalevu